Sober Winter Fun in New Jersey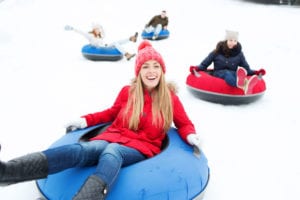 The long, cold dark days of winter can be challenging for people in recovery. Fortunately, planning a few fun, sober activities can make all the difference when it comes to preventing the winter blues and safeguarding your recovery. Try one of these ideas to warm your spirit and bring joy to your sober life this season.
Give ice skating a whirl. Ice skating is not only a great way to get moving — which can be challenging during colder temps — but you can do it with a group of friends. Surrounding yourself with loved ones is key to preventing loneliness this winter. And a little laughter, which is bound to happened as you slip and slide along the rink, can't hurt either. New Jersey has a bunch of both indoor and outdoor iceskating options.
Hit the slopes. Whether you choose snowboarding, skiing or snow tubing, there are some great spots located in the mountains of North Jersey. This includes Campgaw Mountain in Mahwah, Hidden Valley Club in Vernon, Mountain Creek Ski Resort in Vernon Valley and High Point Cross Country Ski Center in Sussex. Not only will these winter sports challenge you to get out of your comfort zone but fresh air can do wonders for your health and your recovery.
Go for a hike. If you can brave the cold, winter can be the most beautiful time of the year to experience New Jersey's many trails. Think frozen waterfalls, glistening piles of snow and clear views atop the state's mountains.
Visit a museum or an aquarium. You can have lots of indoor adventure and new experiences by visiting the many nearby museums and aquariums this winter. Grab a trusted friend and take a day trip to New York City to hit the MET or Natural Museum of History or head to the famous Adventure Aquarium in Camden, NJ.
The Season to Get Sober
Seabrook accepts admissions 24 hours a day into any of our detox and rehab programs. We understand that reaching out for help is difficult but it's the first step toward a life free from alcohol and other drugs. To learn more about our researched-based Seabrook Model® of treatment, call today: 800-761-7575.