The Wellness Program at Seabrook offers a wide range of modalities to help clients achieve a sense of peace and happiness.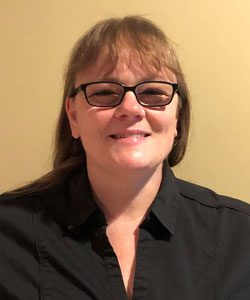 DR. ADRIANE DOURTE
Dr. Adriane is an acupuncturist with a master's and doctorate in Traditional Chinese Medicine as well as a bachelor's in science. She has worked at Seabrook for five years and in the Chinese Medicine field for 14 years and is nationally certified in acupuncture (licensed in Pa., N.J., and Delaware) and is certified by the National Acupuncture Detoxification Association.
Dr. Adriane's wellness offerings at Seabrook include:
Acupuncture detoxification once a week for all clients (acudetox is a five-point protocol on the ear that treats PTSD and all stages of addiction.)
Chronic pain group with TENS units, cupping, as well as individualized acupuncture multiple times a week throughout stay.
Topicals for pain and anxiety daily (herbal patches, magnets, medicated oils, essential oils, kinesio tape, acupressure rings, teas, and ear seeds).
Education on how to naturally take care of the body and mind in conjunction with Western medication and information for how to access all services and products outside of Seabrook.
Amethyst BioMat: a medical device that uses a combination of amethyst stones and fabrics to generate far infrared rays that are then transferred to the body as heat. Far infrared rays warm the body on the inside, increasing blood circulation and lymph flow.
Hydro Massage Bed: a convenient, dry, full-body massage with the use of pressurized water.
Light Box: produces light that simulates the sunlight that's missing during the darker winter months. May improve Seasonal Affective Disorder and depression by encouraging the brain to reduce the production of melatonin (a hormone that makes you sleepy) and increase the production of serotonin (a hormone that affects your mood).
Zero gravity chair: a recliner that tips you back until your head is slightly below your feet so that there is zero gravity putting pressure on the body. It mostly treats back pain but also reduces body tension.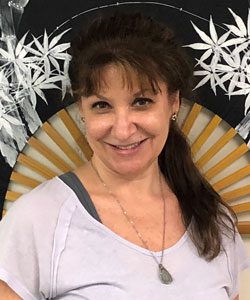 SUSAN DESIDERIO, BA, LMT, RYT, REIKI MASTER
For eight years, Susan has been sharing her passion and knowledge of holistic healing modalities at Seabrook. She holds a BA in psychology and worked in various dual diagnosis group homes as a mental health counselor. Susan is a licensed massage therapist as well as a certified Pilates teacher. Susan has also studied a variety of healing modalities, including Reiki, craniosacral therapy (CST), and Comfort Care Touch. She has earned a 200-hour yoga teacher certification and is a certified hypnotist.
Susan's wellness offerings at Seabrook include:
 Yoga: Yoga4Sobriety is the foundation of yoga taught at Seabrook. It teaches the connection of breath, asanas, chakras, and the 12 Steps. Each yoga session ends with a meditation and is offered both in a group setting and privately.
Pilates: Mat Pilates is made available for our clients in a group setting or privately. Pilates is an exercise that emphasizes the connection between breathwork and mindful movement to help improve core strength and flexibility and decrease back pain.
Massage: Complimentary neck and shoulder massage is offered to all residential clients during their treatment. Additional 30-minute massage is available for purchase.
Reiki: Reiki is made available for clients who prefer this energy work in lieu of massage. Reiki is also introduced to clients in meditation sessions and during yoga practice.
Labyrinth Meditation: The Labyrinth symbolizes the journey to the center of your deepest self. Walking the Labyrinth can help solve problems, soothe nerves, calm the soul, mend the heart, and heal the body. A Seabrook facilitator leads this mindful walk.
Drumming: Drumming is a non-verbal form of communication that strengthens community and adds joy to all participants. A Seabrook facilitator leads this group through various activities.
Silent Walking Meditation: Throughout the grounds where we have the most beautiful trees and fountains. It is a time to listen, hear, and reflect.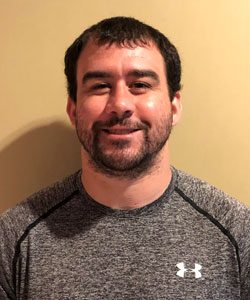 KYLE LETIZIA, B.S. EXERCISE/SPORTS SCIENCE
Kyle is a certified personal trainer, a CPR/First Aid instructor, a certified crisis prevention and intervention instructor, and an assistant wellness coordinator who has been with Seabrook for seven years. Kyle earned a BS in sports science.
Kyle's wellness offerings at Seabrook include:
Group exercise classes in fitness center (cardio and weight room).
Personal training services and nutritional consults for clients.
Supervised independent workout time at Seabrook's fitness center and at our large outdoor recreation area that includes a basketball court, beach volleyball court, horseshoes, track, softball, and ropes course.
Ropes course, which gives Seabrook clients the opportunity to experience challenging situations and rely on group support and thinking. While physically challenging, the ropes course encourages clients to adopt a new way of thinking and problem solving. The course at Seabrook offers three separate elements that can be completed by using the team approach. Participants are encouraged to face their fears and rely on teamwork for both physical and mental support throughout the activity.