Super Bowl Game Plan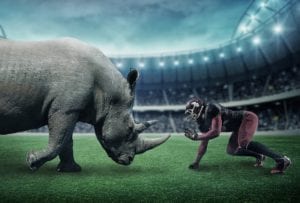 Super Bowl Sunday is this weekend! While the New England Patriots and the Los Angeles Rams are preparing game plans for the big day, you should too. Navigating super bowl parties in early recovery can be very difficult. Just like a player; listen to your coach, fuel up on water or Gatorade, and like the cliché, "go out there and have fun." Being in recovery is no reason to stay home and miss the excitement of experiencing the game with friends and family. You just need a game plan. You are your own quarterback.
Your Coach: Be in contact with your sponsor before, during, and after the event if necessary.
Your team: Have someone to hold you accountable and support you when tempted. Form a huddle when temptation arises.
Strong defense: Before going out, identify your triggers and make the conscious decision to avoid them.
Strong offense: Let the person hosting the event know you are in recovery. They may be willing to limit the influence of alcohol at the party.
Safety first: If you truly feel you are not ready to be in a non-sober environment, stay home. Your sobriety needs to come first.
Go for the extra point: Be supportive for someone you know struggling in recovery during the game.
Interception: Take the keys of anyone attempting to drive under the influence.
Handoff: Bring board games, soda, and other recovery friendly activities to utilize during the party. It is easy to forget how entertaining Connect Four can be.
Monday mornings following Super Bowl Sunday are like no other. Rejoice in the fact you will be waking up refreshed rather than with a new DUI. Be excited to talk to co-workers about the half-time show or commercials that you remember fully. You deserve the most elaborate victory dance for successfully navigating a Super Bowl party. Do not worry about a referee throwing a flag for excessive celebration. You earned every touchdown and field goal! To learn more about Seabrook and our NJ drug and alcohol rehabs, you can also connect confidentially online or email [email protected].